Accredited infection prevention experts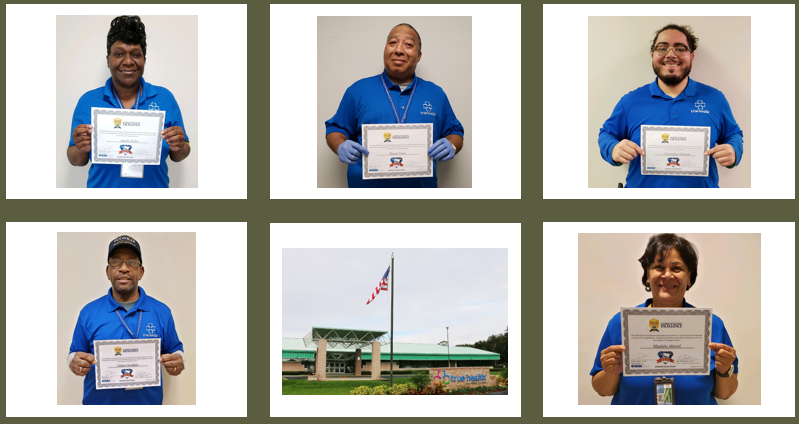 Darryl Henry, Director of Facilities for True Health in central Florida signed up his team for the Accredited Infection Prevention Expert course online.
These individuals earned their certificates from the Academy this past December. Below are a few words from these graduates.
"The Academy of Cleaning Excellence truly has educated me and broaden my 2020 vision of applying proper cleaning techniques that will help me in my quest to help save lives. This is my new goal and 2020 vision as a True Health employee to provide true care and concern to anyone in my place of employment. I must admit, that in 27 years of cleaning experience, I have a new outlook and concern about how I clean. That it's not about making an area of your responsibility to look clean or smell clean, but that true cleaning is about reducing and/or, eliminating those unseen pathogens, germs, and viruses that cause disease or illness." – Clinton Goodman
"I am really grateful for the Cleaning Course. It's always true that even if you know about something, there is still more to learn. I found the course to be complete and very informative. All though I have 38 years of experience, still, I found valuable information.- Daniel Nunn
"The class showed me a lot of things about cleaning and how to clean that I really didn't know, I enjoyed taking the class and the test. Learning new stuff never hurts, it will help you in the long run." – Angela Holley
"This course has opened my eyes to the true meaning of cleanliness." – Chris Delgado
"What I liked the most was the reassurance that I was doing the right thing, and didn't have to leave my work area to take this Training Course. It was Great! – Migdalia Martell
You too can join these new graduates by taking the class online or at a LIVE class at one of our regional campuses. Review class offerings HERE.