UNDERSTANDING MICROFIBER – FREE CLASS
Have you used a mop bucket that actually works?  Or does your mopping tools just spread dirty water?  Have you ever been informed on what Microfiber is so that you can make an intelligent decision when you purchase these tools?
When you sign up for this FREE class you can say YES
Here is your chance to learn for about Microfiber, what it is and how it works in regards to the cleaning industry.  The first 20 people to sign up get the FREE seats.  Everyone after that pays $30.
Come and be some of the first people to enjoy the newly remodeled A.C.E. Learning Center in Orlando.  Refreshments will be served.  Bring your Smart Device. Wifi is provided.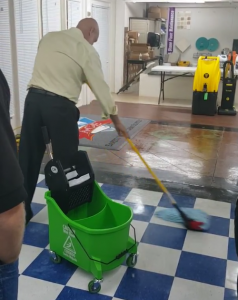 Register now for this FREE session in January
Here is a list of the topics we will cover in the class.
What is Microfiber?
Processed or Unprocessed
Types of Microfiber
Care of Microfiber
Microfiber and Germs
Measuring Cleaning Effectiveness
Green and Healthy Processes
"To Say that a Building is Clean does NOT mean it is Healthy,
but if a Building is Healthy, it is CLEAN."
Have you ever seen an ATP Meter and Swabs used to verify your cleaning results?  If you are in this class, you will!
Don't miss this opportunity to learn the latest in healthy, positive and proactive methodologies for the cleaning industry.
Your instructor is David Thompson, host of "Beyond Clean with Dave" on the A.C.E. Network.