January 2017 – ISSA Master Green Technicians
These five individuals just graduated, January 20th, 2017 the ISSA Cleaning Industry Training Standards, Master Green Technician course, provided through GCI Certified and instructed at the A.C.E. Academy of Cleaning Excellence in downtown Orlando.
During five days of instruction, they earned certification in Customer Service, HAZMAT, Restroom, Carpet and Hard Floor Care, just to name a few.
Additionally, they started the process in how to build a sell sheet, how to create a WOW statement and found out the principals of workloading.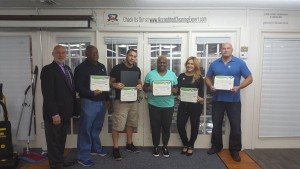 Right to left, Jason, Pascale, Brigitte, Geovanny, Jon and Dave the Instructor
Pascale has this to say about the class.
After two years of being in the janitorial industry and with minimal training, finally I have found the background information to understand the importance of my business. Not only do I now know the changes I need to make for my company and how to be a safer place for employees, but in my personal life as well.  I would recommend that any new employee, mid-level and/or executive level managers should take the valuable course, as it will open your eyes and mind to see how our industry impacts the life of others everyday.
You can view the complete schedule of classes by clicking here.
Keep current on what is going on at the A.C.E. Academy of Cleaning Excellence by tuning in to Beyond Clean With Dave every Friday afternoon, 1 PM Eastern.